This year I focused at the beginning of the year on making the kitsch + fancy studio a more FUNCTIONAL space.  I was so happy with the outcome and it was totally worth the effort.  It is so important to productivity to have a comfortable, creative yet organized space.  When I started desiging my studio refresh here are the things I kept in mind:
creating more space - first and foremost
kitsch + fancy color palette
comfort for long work days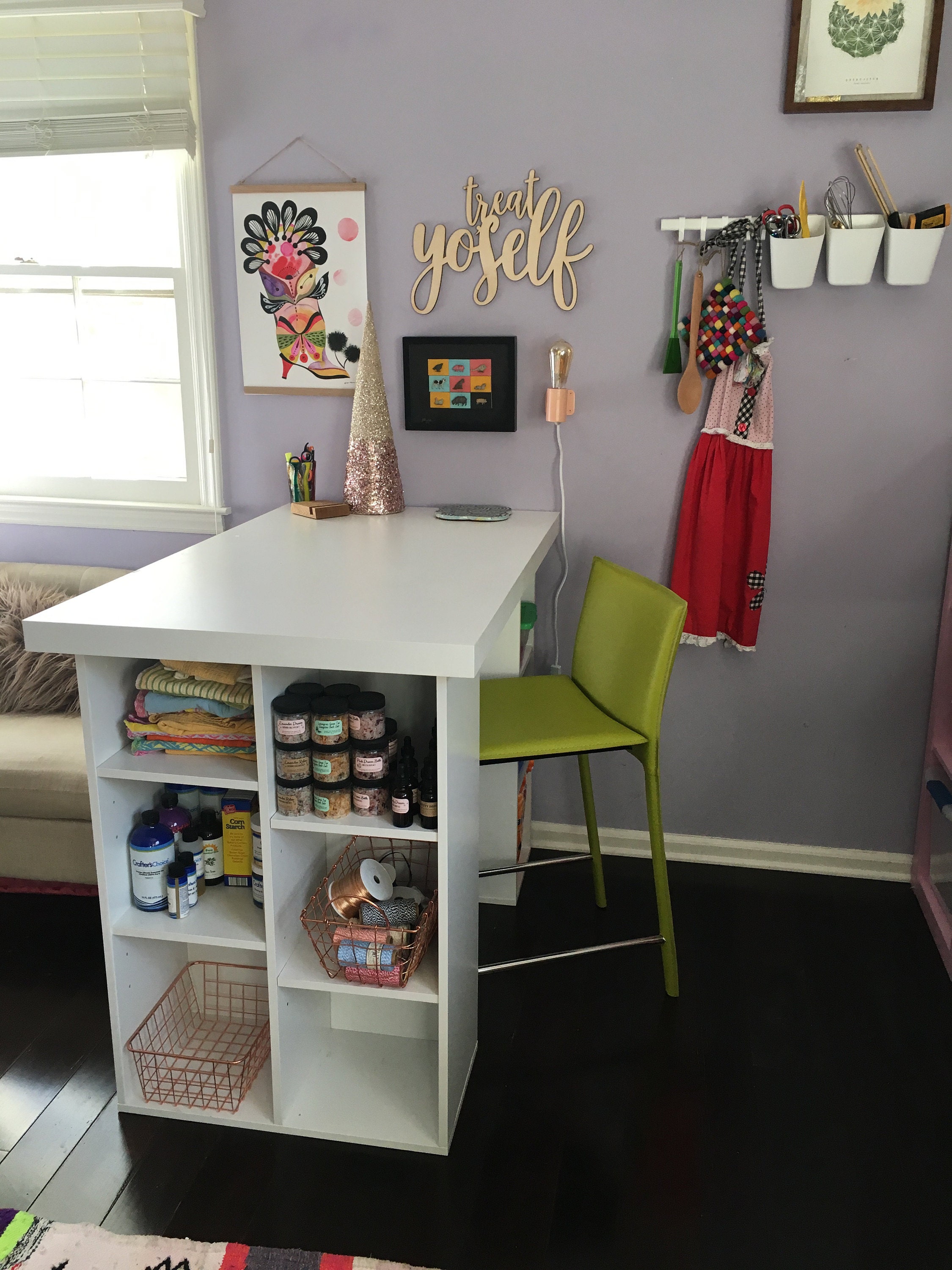 I added a STANDING desk to give me a second workspace where I could stand and work without hunching over all the time.  Both ends are multi-functional with bookcase storage where i can store more supplies.  I found this gorgeous leather bar stool which has gorgeous hand-sewn detail along the back legs.  I set the table up so it was facing the tv for a change because my other work desk in the room faces out a window away from the tv.  This way when I have desk type work to do I can either sit at the desk and listen to music and enjoy my backyard and creek or I can just watch tv while I work.  Adding a standing workspace has been awesome for me this year in getting me off my chair more.  
Every extra furniture piece I chose for my studio refresh I chose based equally on design and style as well as functionality and storage.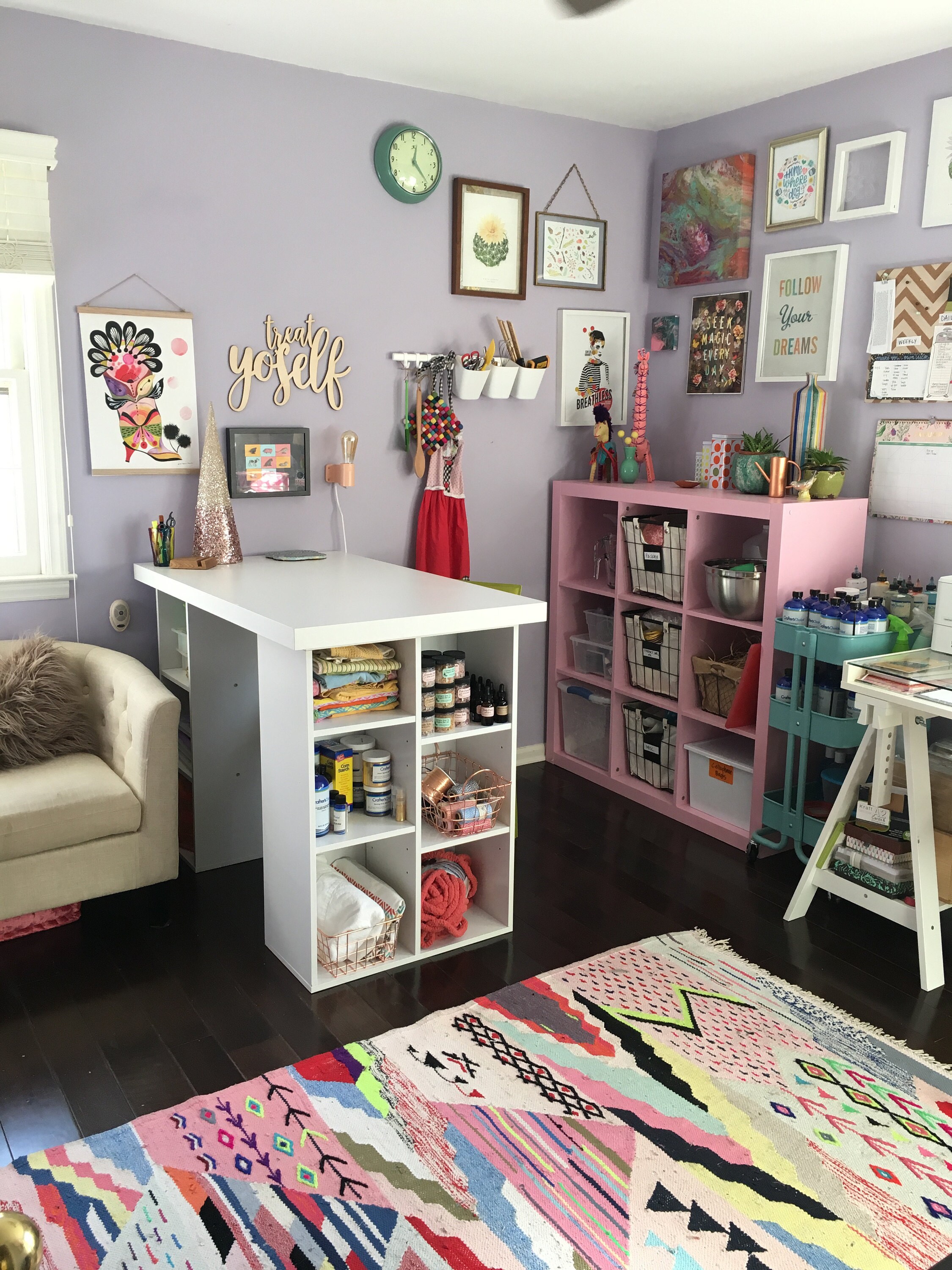 When organizing your workspace, put thought into what items you will be accessing frequently or less frequently when deciding where things will be stored.  My studio space is extremely small but I store an insane amount of supplies in it.  Create space anywhere you can!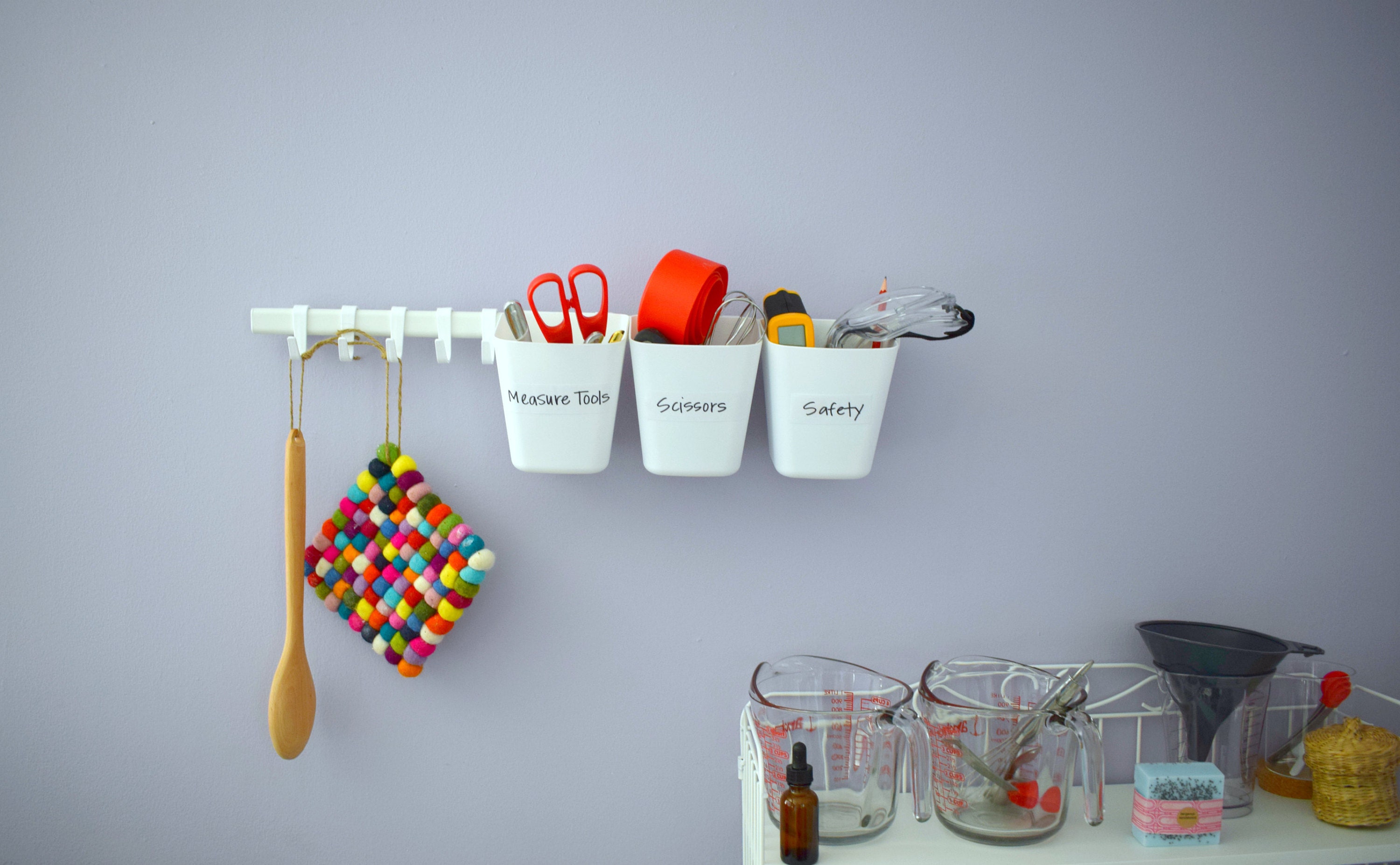 Use wall space as well for hooks, cups, shelves, etc to hold your work tools.  Don't forget to label label label!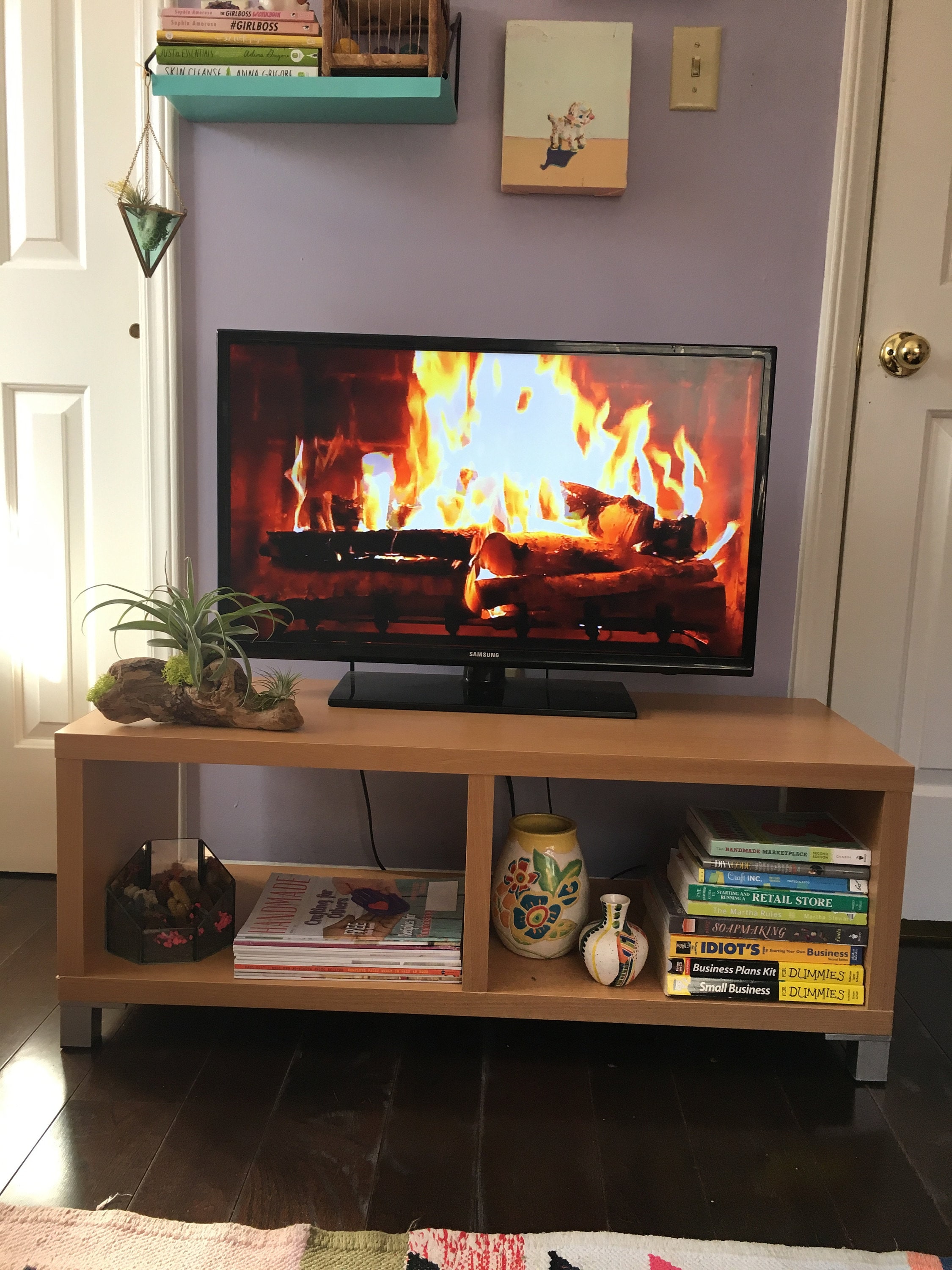 Try to put thought into what is "exposed" with storage so the space doesn't start getting too cluttery.  Use baskets when necessary or display things that still look neat like books and magazines.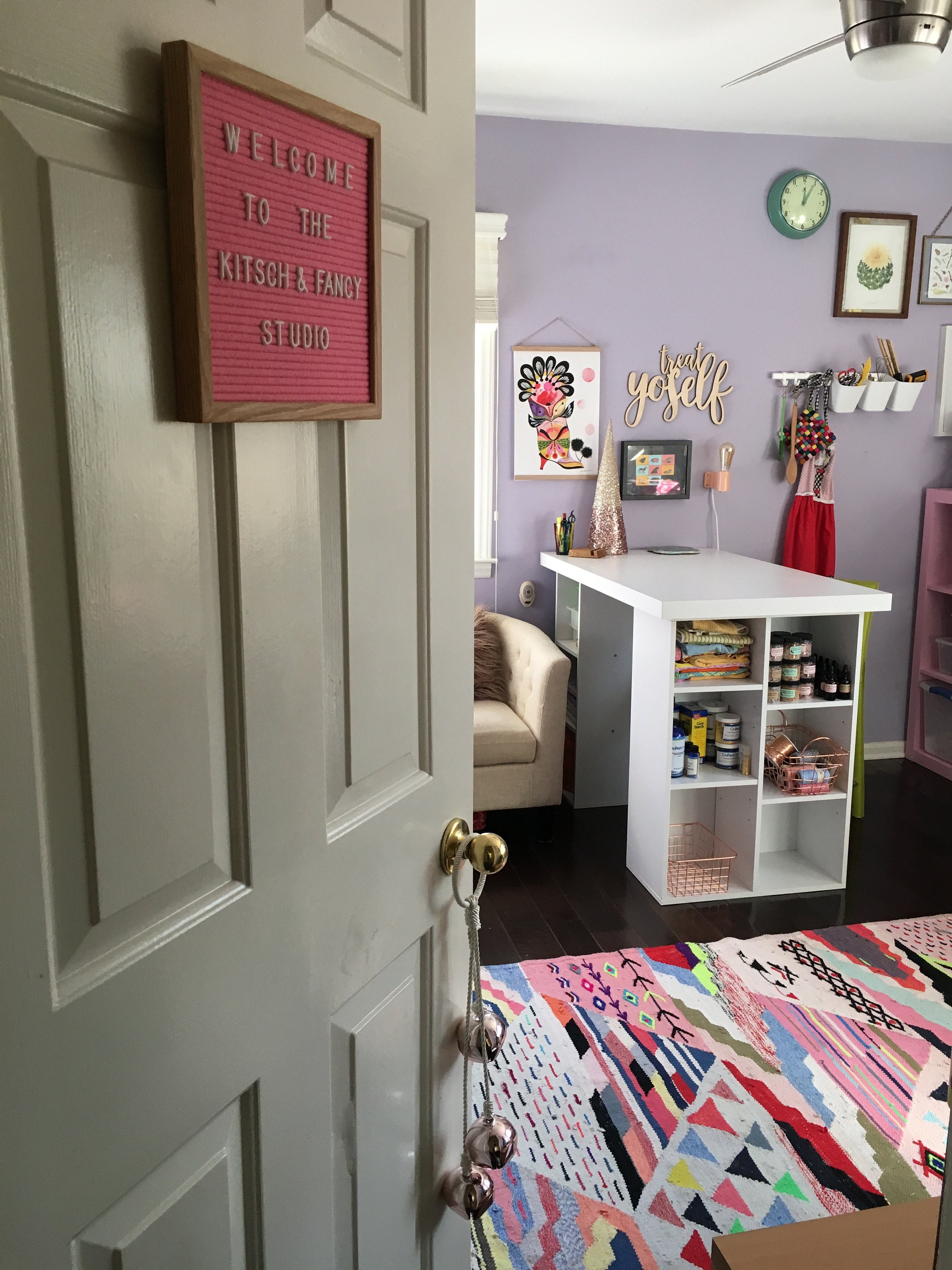 This handmade kilim rug I purchased from local buddies Holistic Habitat was the statement piece for my room.  I love that it encompasses the color palette and spirit of the kitsch + fancy brand.  It really brightens up the room and pops against the dark hardwoods but makes the lavender wall color make sense.  I also picked the kilim because it is easy to clean with my handheld rug cleaner since there will be a lot of walking and traffic on the rug.  A fluffy or cozier rug would not be functional in my workspace.  I also splurged on  having a ceiling fan installed which made my workday 100% more bearable.  I keep the door closed so it helps circulate the air and makes it feel fresh instead of stuffy.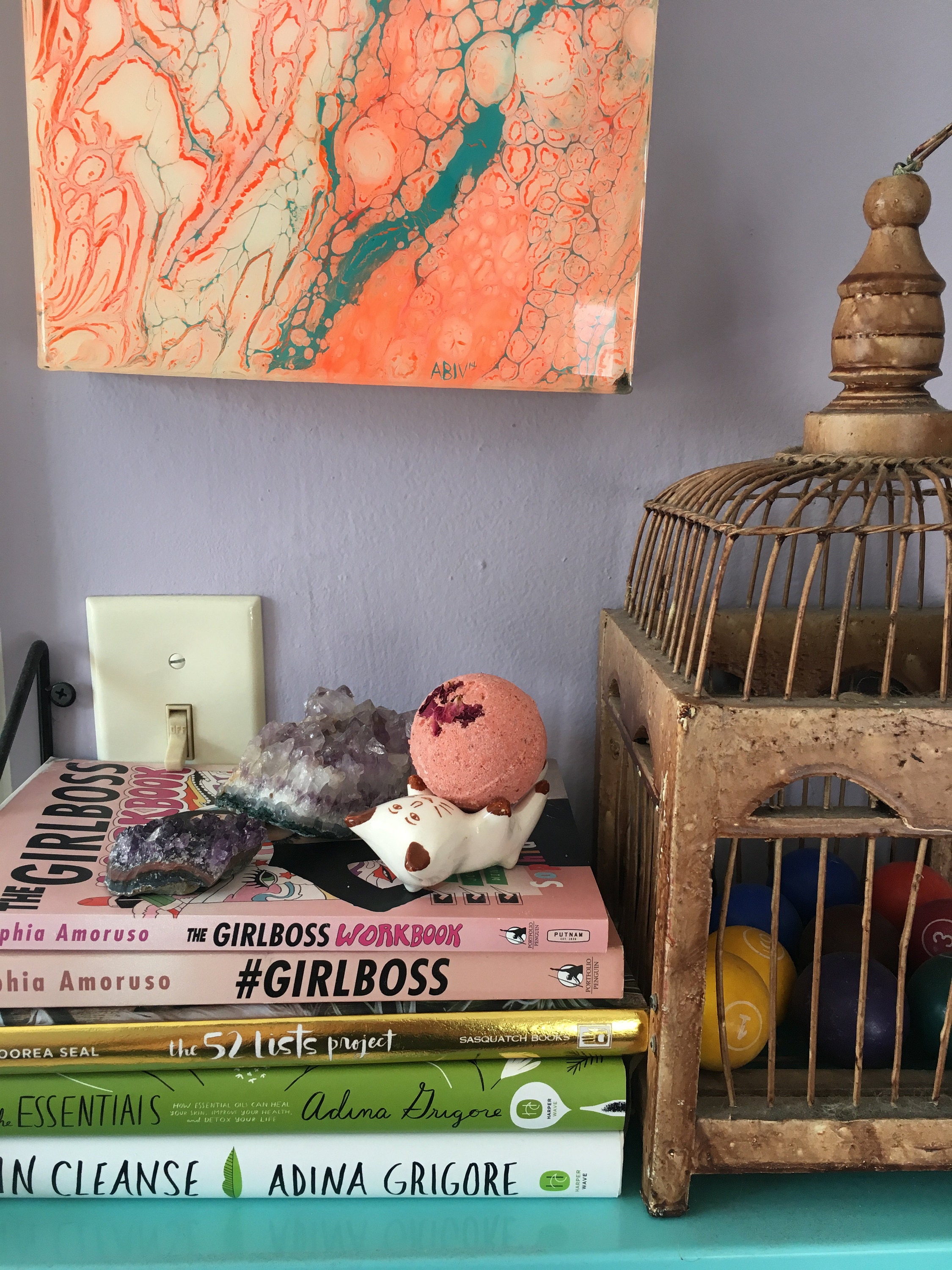 Keeping my creative juices flowing by making my workspace organized chaos.  It always feels CLEAN and organized but there is neat little things, trinkets, and art everywhere.  I make myself do a studio deep clean every Friday in order to make sure I am consistently deep cleaning my room and tools so my workspace stays clean.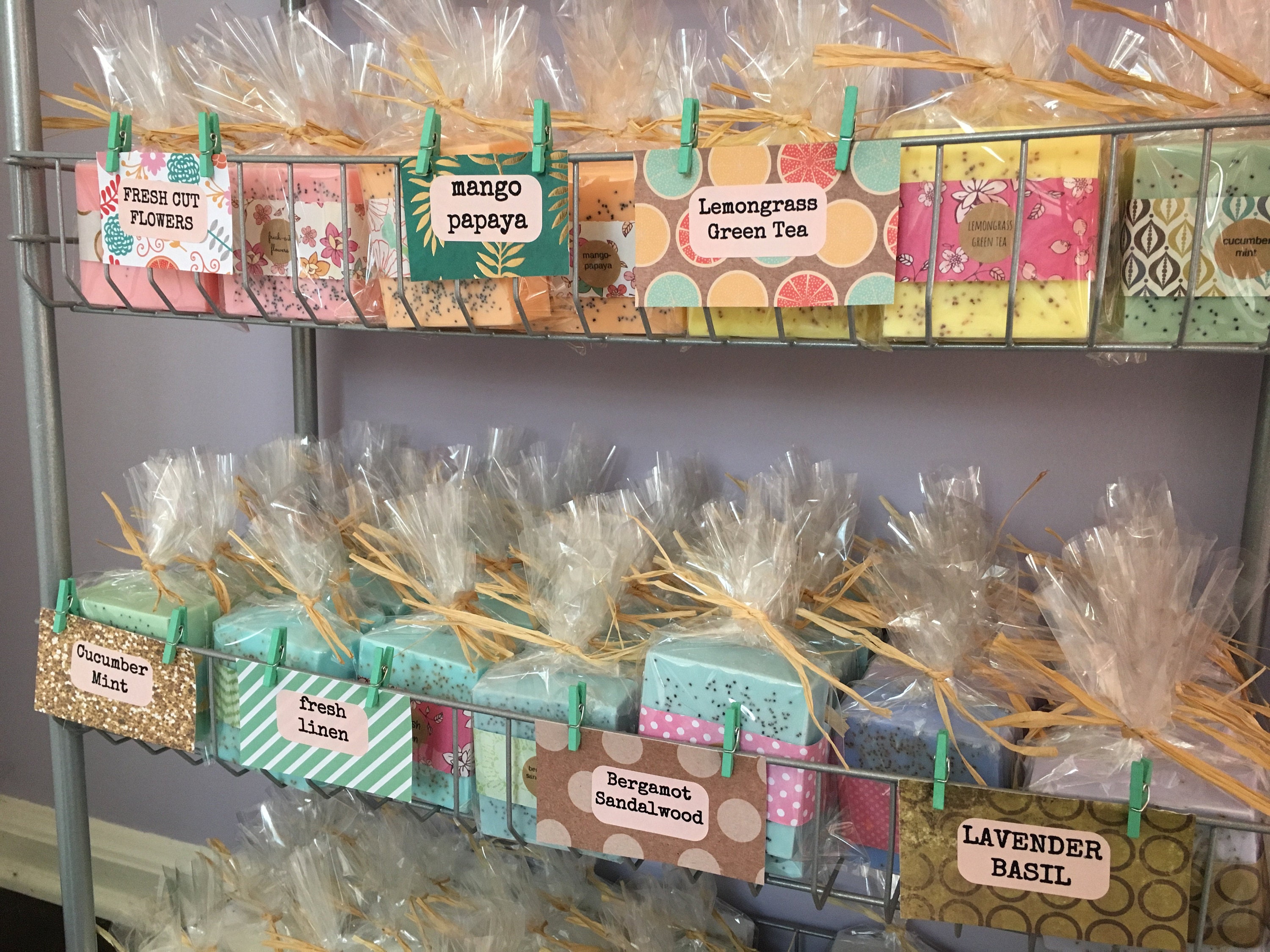 Every fixture in my studio has a purpose, to hold products or supplies!!!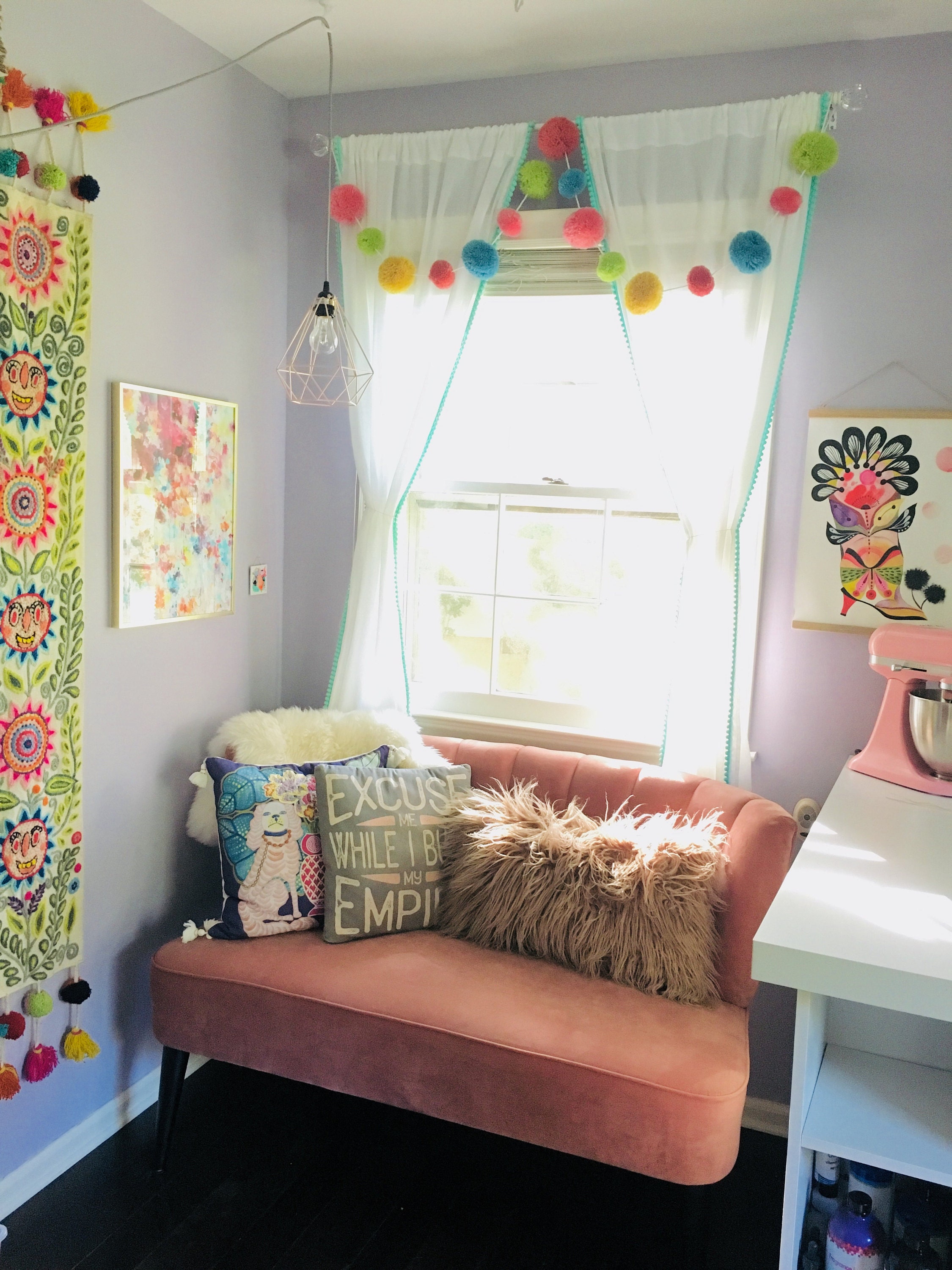 The shining star of my studio, my cozy corner.  This lush pink settee screams kitsch + fancy.  I do spend a lot of my time sitting and packaging so I had to make this corner a happy corner.  I brought back that jaw-dropping tapestry from our honeymoon trip in Peru.  I looked everywhere and wasn't interested in any of them until I saw this unique beauty in this cave of a store.  It was a tapestry that was created by my dreams.  I knew I had to have it for the studio!  Now I get to look at this happy beauty during my long work days and it makes me so happy.  
Thanks for taking a peek into my studio tour.  I will be making more tweaks this year so stay tuned!  What do you like your space to look like?  Do you work better in a clean, minimal space or a creative mess?